See You at Home

Portfolio Addendum


---
CAPTIONS
---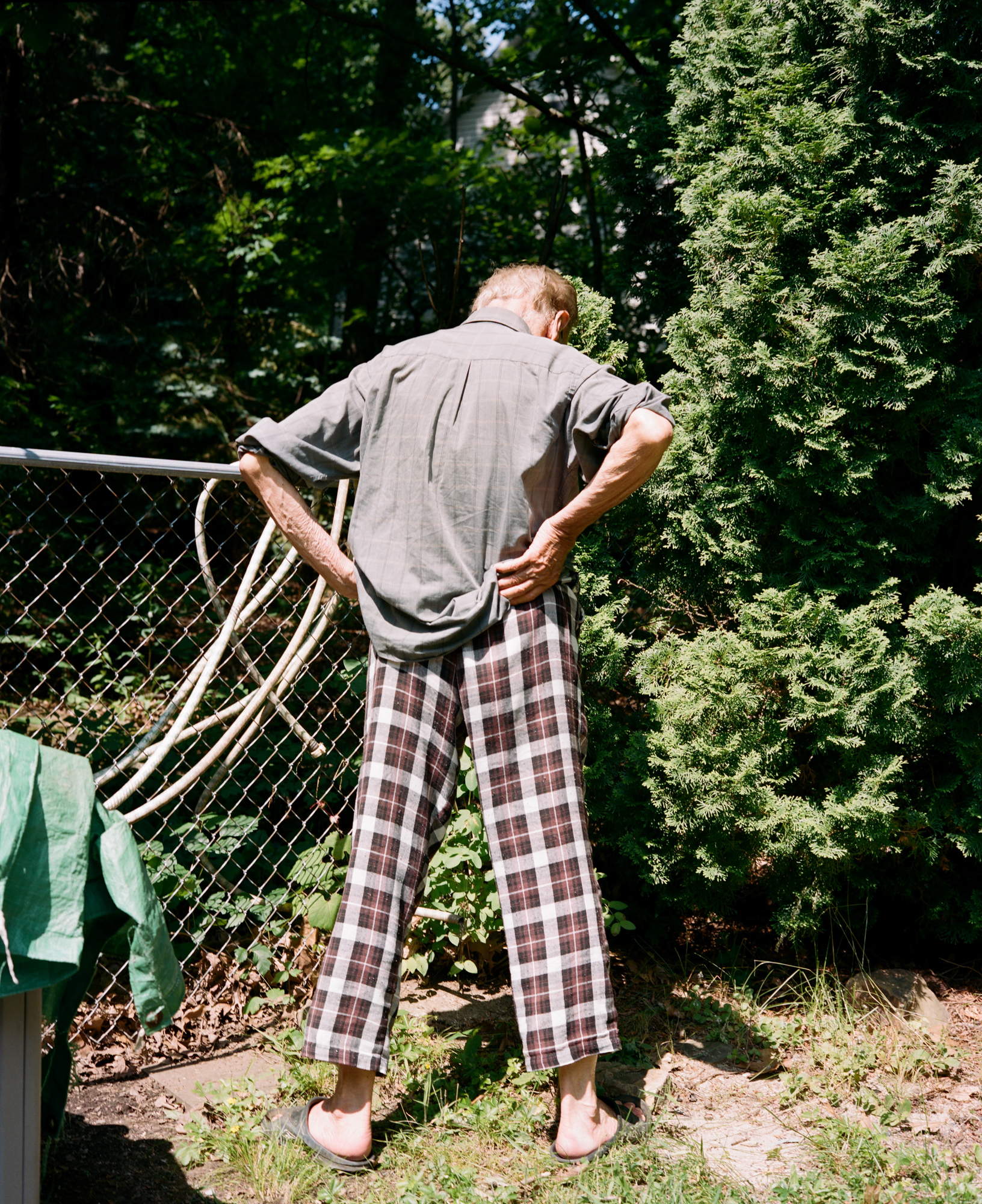 01. Before Immigration, 1969
02. Our Childhood Swimming Pool, 2016
03. Mom's Diamonds, 2017
04. At Fox's Restaurant, 2016
05. Life in Central Park, 1972
06. Last Summer, 2019
07. Before Immigration No. 3, 1969
08. Holy Fountain, 2014
09. The Mantle, 2018
10. The Bouquet, 2019
11. For Good Luck, 2018
12. In The Pines, 2017
13. One Evening, 2019
14. My Father's Den, 2018
15. On an Island, 2014
---
LOVE LETTERS

---
The texts consist of love letters between my parents. These letters were written over a period of 6 months in 1969, shortly after their engagement and even into the first few months of their marriage, before they lived together. They each write with a sense of idealism, romance and fear. My mother hardly knew my father, but was about to leave her entire family back in India to live with this "stranger" in London. There are 68 letters in total.
Some are written in Hindi while others are written in English.

Here is an example of a love letter on various media: the original -> cardstock -> vellum. I then show an example of a current photograph of my parents and place it behind the vellum.
"See You at Home" has not involved much collaboration with my parents, but it is imperative for me to introduce their own voices into it. With the letters, we plan to employ poetic devices, such as erasure, to modify these texts, in order to evoke a sense of memory and the reframing of one's personal history over time.



An example of erasure, taken from the poet Mary Ruefle's book "A Little White Shadow."

---
VARIOUS INSTALLATION IDEAS
---
Satellite Images

I wrote the following for the National Portrait Gallery Outwin Boochever Portrait Competition in response to my photograph, "Our Childhood Swimming Pool":
"My father had just finished raking the leaves out when I made this portrait of him in the childhood swimming pool. He still tends to it even though it's no longer used. Here it lives in a continuous state of decay.

This pool is where he taught me how to swim when I was one and a half years old. This is the pool where so many home videos were made: him chasing me around the pool with the hose, eating lunch with aunties that were visiting from India, and from times even before I was born.

This is the state of the pool now, and has been for years. I made this portrait after not seeing him for 8 months. I try to visit as often as I can."
... which led to a layout that employs these memories as "Satellite Images":

Clockwise from Bottom Left
01. Indian families, visiting from far away, enjoy the pool
02. Mom lounges in chair by pool


03. Indian aunties flip burgers, wearing saris
04. Mom & Dad sit in pool. Mom is wearing a shower cap
05. Dad lays in a raft in the pool, smiling

---
Home Videos
---
I also have started to look at VHS home videos, including ones from around the pool, such as this:
---
Projection / Installation Views
---
I decided to integrate these satellite images and to project these home videos with "Our Childhood Swimming Pool."

My initial experiment is currently on view at The Print Center in Philadelphia as part of a solo exhibition for "See You at Home." I hope that with the Counter Histories initiative I can continue to experiment with new media to create a layered narrative and explore the liminal and non-linear space between past, present and future.

---
CURATOR STATEMENTS
---
"I was drawn to this project because it sensitively addresses and intertwines the themes of migration and aging. The photographs of the past and present, when presented together, bring to the fore the impact of displacement, even when it is by choice. "Home," in the end, is both spatially and temporally unstable."


- Leslie Ureña, Associate Curator of Photographs, National Portrait Gallery, Smithsonian
"Vikesh Kapoor's 'See You at Home' is a poignant view of an urgent social and political subject told through the lens of the personal and familial. The title is evocative, suggesting a temporary parting and anticipation of sorts; a reunion that could be hours or years away – an indefinite period of time.
I was struck by the way in which Vikesh articulated his parents' relationship with one another and the home they built together through his own photographs, as well as those he chose from the family album. When the idea of what 'home' means and to whom is so fraught, the series suggested to me a couple finding 'home' in one another."

- Emma Lewis, Assistant Curator, Tate Modern
"I was immediately drawn to Vikesh Kapoor's work because his investigation of home felt particularly resonant—urgent, even—at this particular moment. What does home look and feel like, particularly in an adopted country? Kapoor's project reminded me of a favorite body of work by Larry Sultan, in which Sultan explores the concept of home and the mythology of the American dream through photography, family snapshots and home movies. Kapoor's work powerfully and poetically builds on this kind of investigation, imbuing it with a kind of poignancy that feels both very personal and also of the current political moment, summoning the debates around immigration and what it means to be an American.

- Corey Keller, Curator of Photography, SFMoMA